Diary of a Picker: Mid-America & Lobster Traps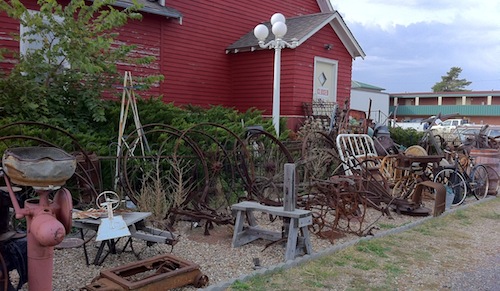 My husband Tim & I are on a road trip across America. We've already been in seven states in three days and will enter number eight within a couple hours. The trip is part vacation (Tim has a few weeks off of his crazy med school schedule), part adventure (we're headed to places we've never been with people we've never met), and part work. I'm keeping up on email and orders but I'm also striving to hone a valuable skill for my professional life: picking.
Picking is my new favorite thing to do. Digging through old piles of wood, sorting out good treasures from unwanted junk, and finding a diamond in the rough… these things make my heart glad. While Jeni's got a trained eye, years of experience, and risk-taking DNA when it comes to finding incredible vintage pieces, I often find myself surprisingly timid in the process of making the purchase.
So, I'm practicing.
There's ample opportunity out here on the open road to garner my skills. Don't get me wrong, I'm a mean negotiator, a bargain hunter, and willing to get my hands dirty when necessary. The big hang up for me is knowing when to pull the trigger.
Yesterday, I made my first purchase. I sorted through several antique stores along the road. Calls to Jeni, pictures via text, and some eBay searches for price comparison resulted in one good deal.
I'll leave you with these pictures of a wooden box, a soda crate, and a lobster trap so you can imagine which I chose.