Diary of a Picker: Turmoil in Brooklyn
Over the weekend, Tim & I went to the Big Apple to visit our dear and gracious friends Lindsy & Cuong. The last time we were with them in New York was for their inspired autumn wedding two years ago. While we got to experience some of their favorite things over that weekend at their intimate celebration, it was a joy to see their regular lives now which are filled with meaningful & important work, rich community life, and wonderfully delicious food. After catching up on all the juice, reminiscing about college days, and stuffing our faces at some of their beloved Brooklyn eateries, I was ready to get down to more serious business: the Flea.
The Brooklyn Flea is held (on Sundays during this time of year, at least) in a gorgeous old bank building (think amazing historic event venue, people). I was a little awestruck just soaking in the gilded mosaic ceilings. We got there early enough that vendors were still pulling pieces out of their trucks to set-up. That pre-crowd set-up time is special. You get the pick of the merchandise. It definitely takes a trained eye to spot the real gems when they aren't even unpacked yet. I think Jeni would have been proud of my enthusiasm in that moment.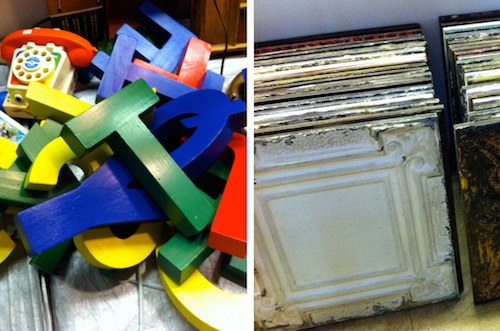 As we sifted through the market though, I had a gnawing thought at the back of my head. Two thoughts actually.
We drove a truck all the way across the country. We're up to about 4,400 miles. Not only that but we drove that truck in New York, the trafficky, unpredictable, mayhem-filled, pothole-ridden city that it is. They don't favor cars there, in fact, I'm convinced most New Yorkers believe that they are invincible and shouldn't be bothered to stop just because a few vehicles are zooming towards them. Driving in the city takes serious concentration and I'm pretty sure I deserve a medal for the parallel parking job I did in that bad boy. My first thought was that I cannot, CANNOT, return from our trip in an empty truck. It almost seems wasteful or like a disservice to mankind.
Simultaneously, however, I had my second thought. The almost overwhelming desire to fill the back of that truck with antique sleds, school desks, salvaged ceiling tiles, door jambs, vintage sweaters, primitive toolboxes, old-school postcards, shelves, and pickles (not vintage ones) was palpable. It would be irresponsible not to and yet Jeni's last words to me on Friday evening were ringing in my ears: "Don't pay New York prices…"