Last week I was off the grid for about 5 days breathing in the beauty of my favorite place on earth; Lake Tahoe. It is what we do every summer on the final days before life gets back to the hustle and bustle of school, homework, soccer practices….and of course, work, work, work. The first time I went to Tahoe I fell in love & immediately felt, at home. Weird, especially because we "tent it" for 5 days, but it is the one place that I have found the ability to completely relax and embrace the beauty that surrounds me.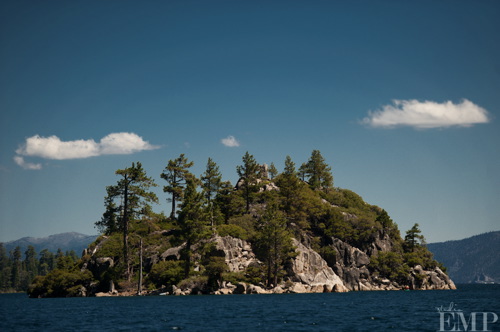 So we hopped in the car at 5am (well, that was our goal, it actually was more like 8am ;)) & hit the road.  We set up her nice comfy bed for Lucy on top of all our bins, so that she was up at the same level as the kids! Yes, she's spoiled!
We made it! Our campsite at DL Bliss — Nothing fancy, but absolutely beautiful!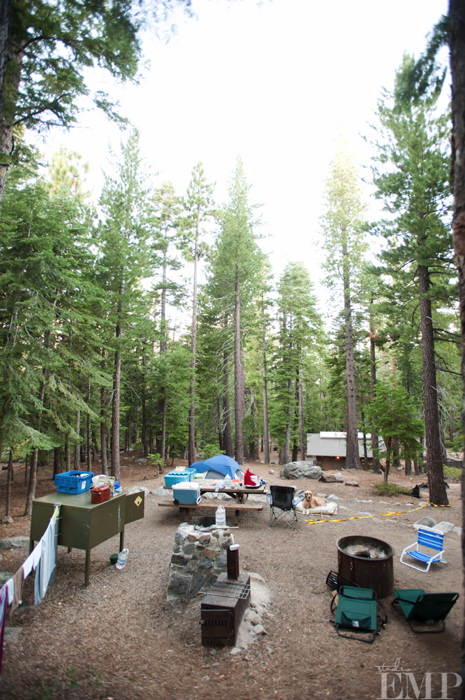 Lucy was a bit on edge for the first day or so with all the squirrels and birds and fun stuff to chase, but she made herself right at home. Especially at night when she snuggled up with all 4 of us in the tent ;)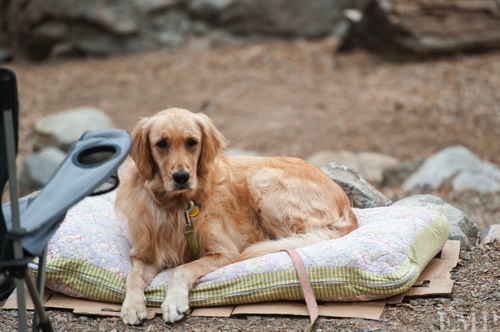 Hike #1- Eagle Falls– it's only about a two mile hike, pretty steep at points, but amazing waterfalls along the way.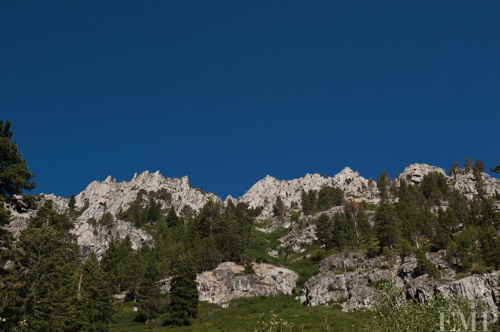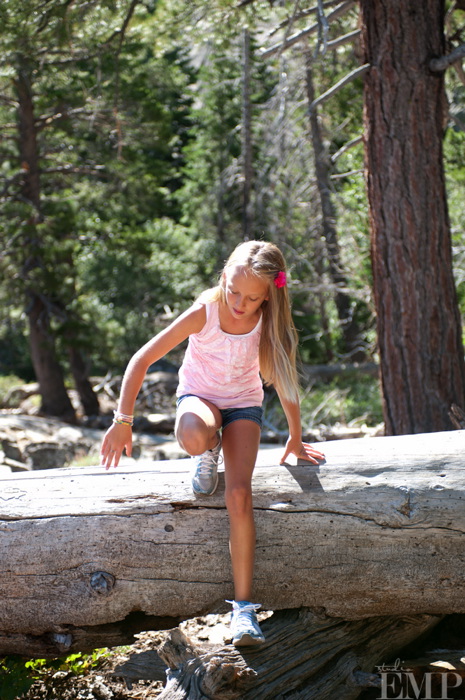 And the most amazing lake at the top!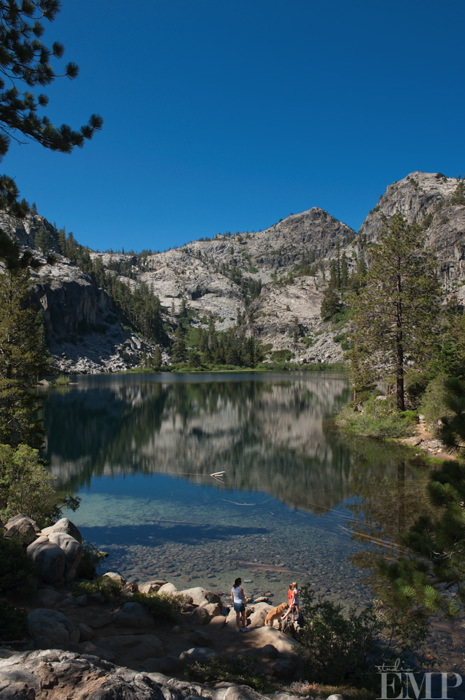 Lucy jumped right in…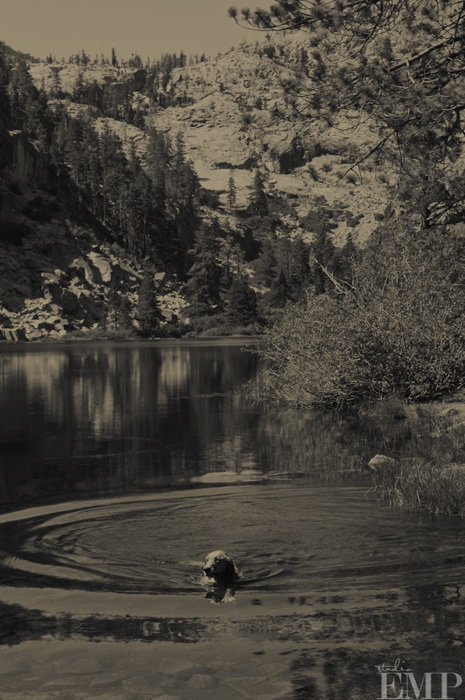 And where Joel goes, Lucy follows….they both swam across the whole lake! So precious!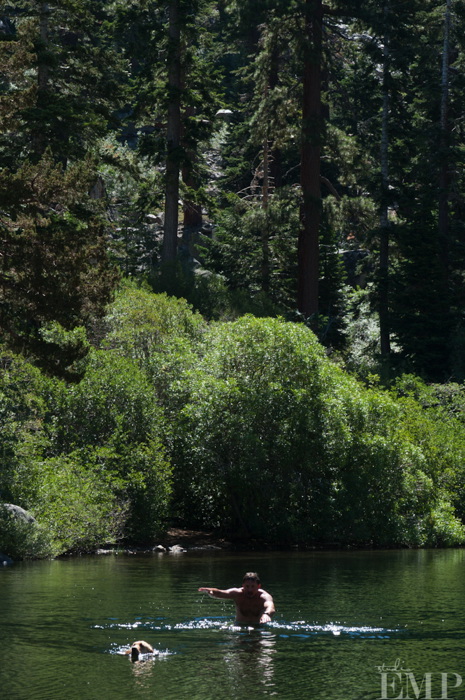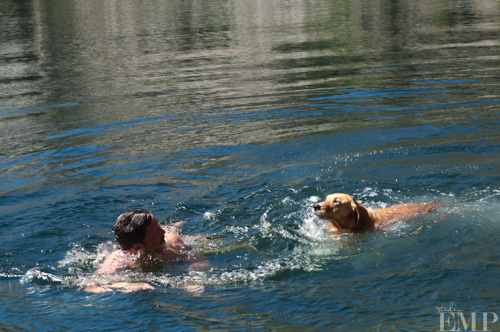 We rode our bikes pretty much everywhere. Our campsite was a little less than a mile away from the beach, quick bike ride down :)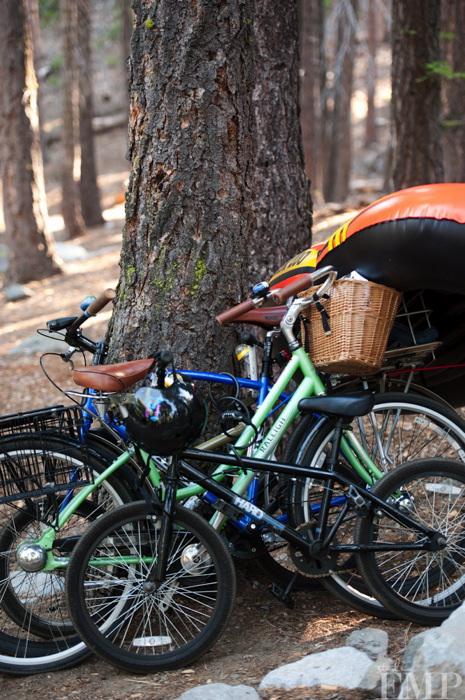 Caysen learned a lot this trip about how to make a bonfire, set up the tent & lock up every last thing in the bear locker! He never said he was worried about the bears, but after waking up one morning and seeing that the bears had gotten into the trashcans up at the bathrooms a mere 50 feet away from our site, he was very dilligent about making sure everything with any kind of a smell was locked up every night :) Later that same day we actually saw the bear….It was so Awesome!!!
Bailey was a great help washing dishes at the "spicket" after every meal- Bedhead and all :)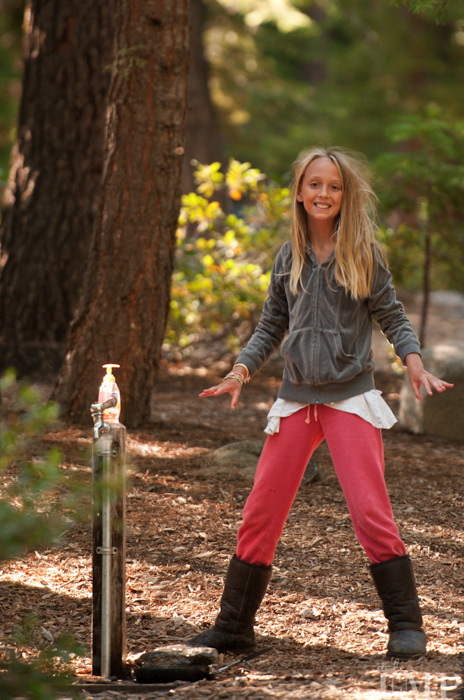 This year was the first year we rented a boat. We were all so excited to explore more of the Lake, & WOW! SO glad we did!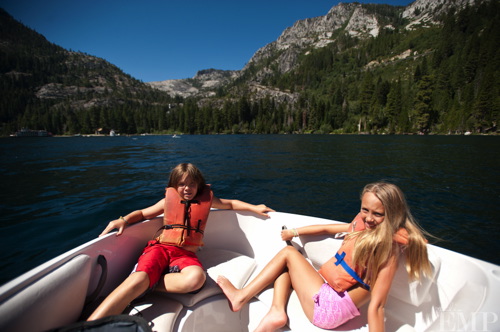 Oh, and the kids loved taking turns driving the boat…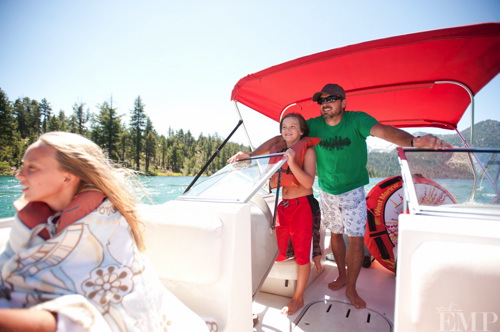 These are the rocks that Joel used to jump off of as a little boy, so you can imagine how excited he was to take the kids here. They have jumped off them for the last few years, but from the beach side it is a bit of a swim to get out to them. We were able to drive right up to them in the boat, which allowed me to take some shots—horrible ones, I know, but at least I got 'em! Here's Bailey getting fancy…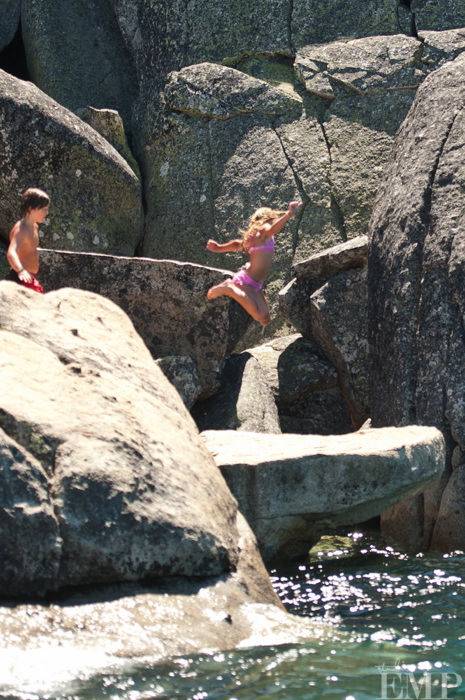 Caysen with a quick plunge….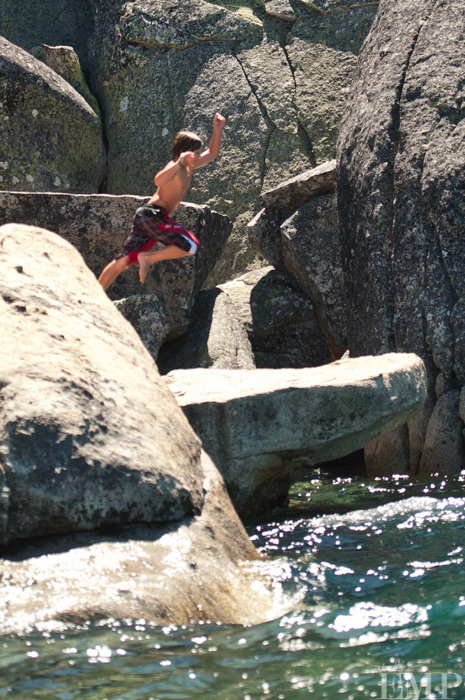 And Joel, my biggest kid off the biggest rock….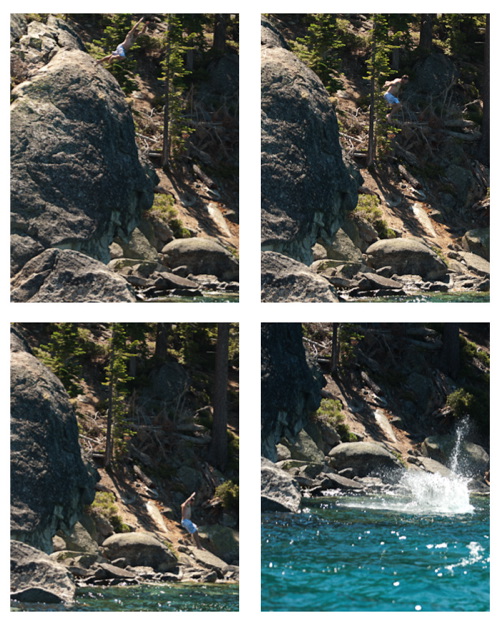 My little guy…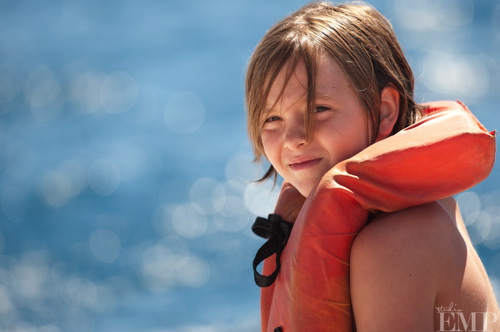 Bailey loved the innertube…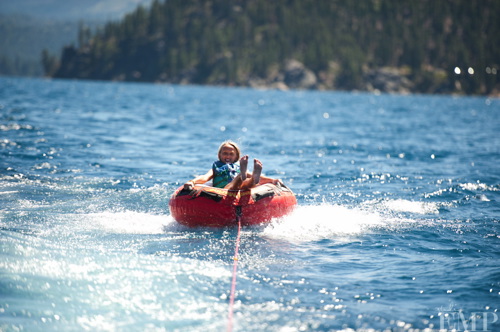 I was house shopping (I mean dreaming) a good portion of the time on the water!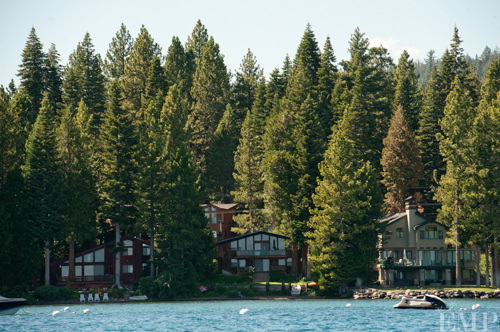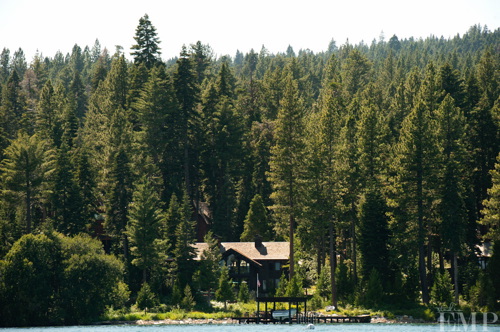 This is the one I chose…to dream about for the rest of my life ;)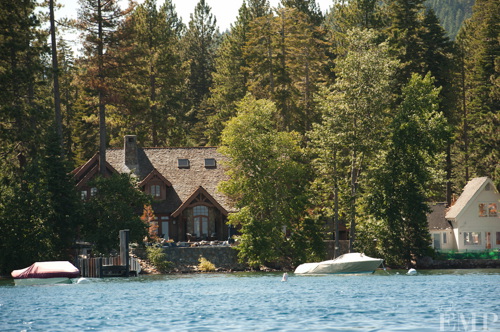 There were so many more beautiful things to share, but Joel was on vacation too so he didn't lug his camera around with us everywhere ;)
The drive home we decided to take the scenic route (395) and Joel got some great shots along the way…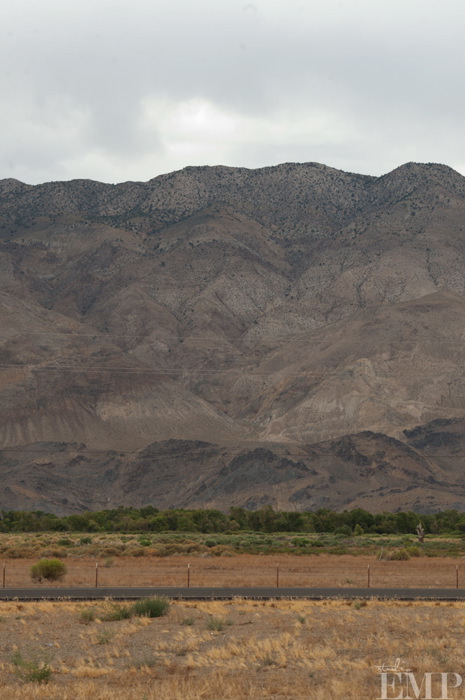 And I got to stop at some great Antique shops :)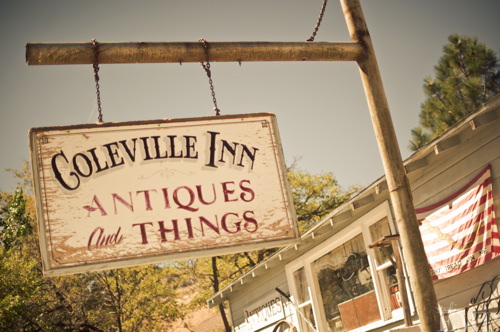 Me in action, looking my finest after 5 days of tent camping…Don't judge!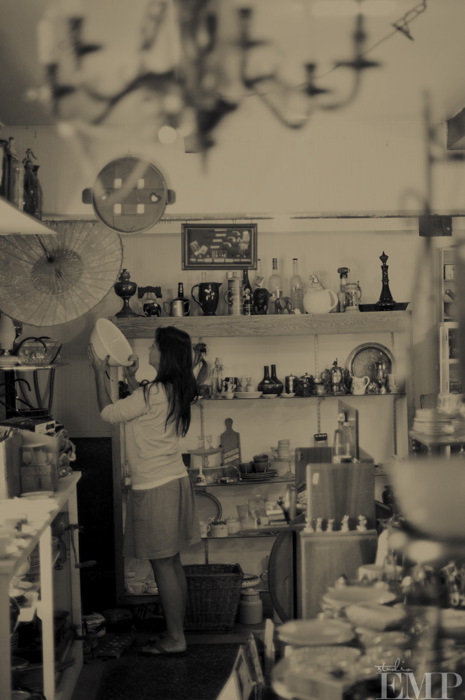 Made off with a killer Dr.'s bag (because you can never have enough of those!)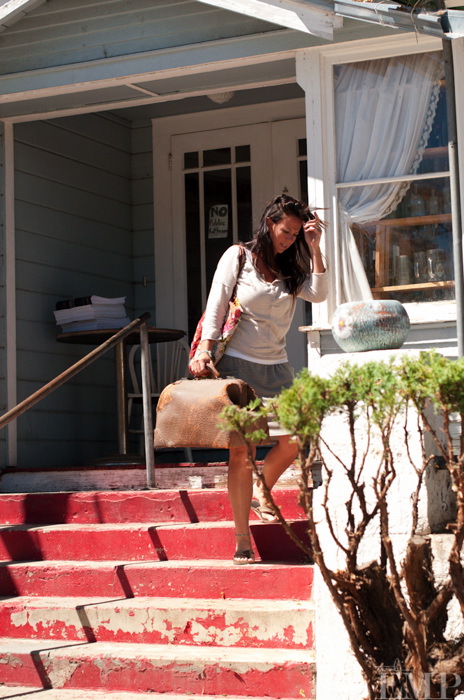 Yes, there were parts of our 12 hour drive home that it was pouring rain! Which made for some beautiful skies that Joel could just not resist!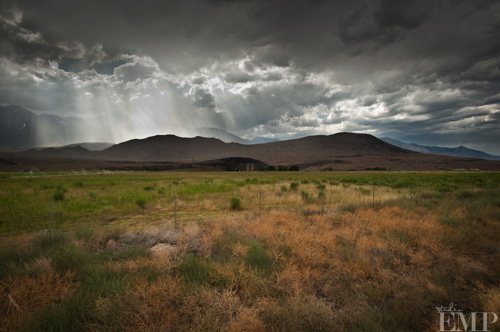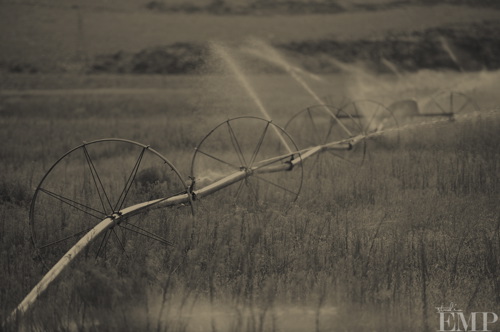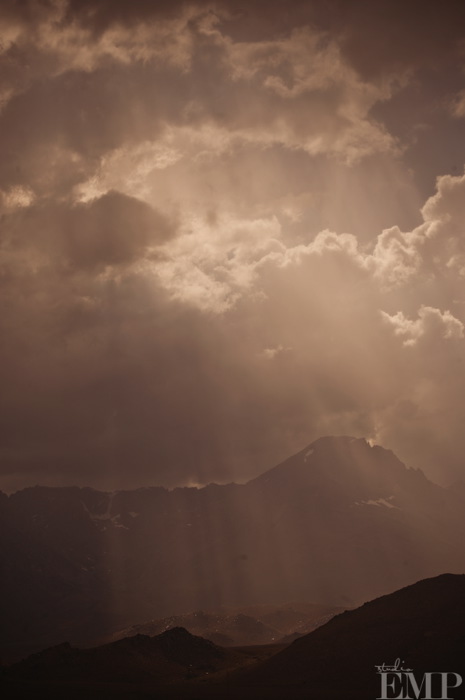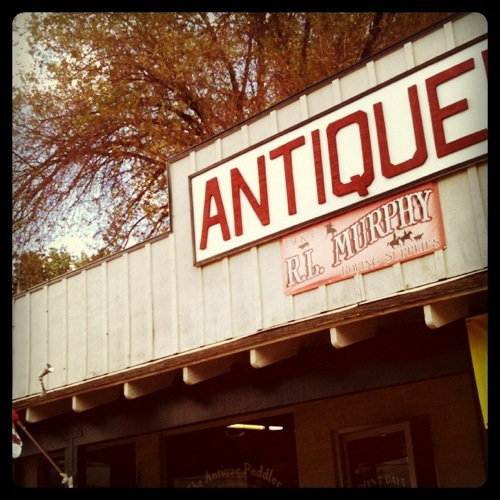 And for those who didn't see my Tweet after buying this stack of books at a thrift store…These 8 amazing books cost me $5! One of which dates back to 1881, and the cashier asked me if a quarter sounded fair? Um, yes I think so!!!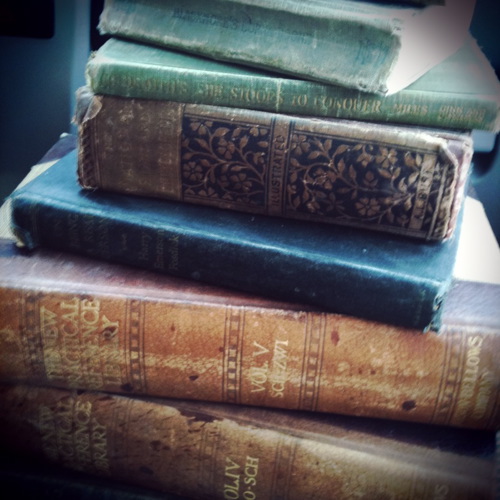 I have been collecting books for years & have hundreds of them & still I just love seeing handwritten notes inside. Especially like the one below…the title is On Being A Real Person…and it is filled with the most precious handwritten thoughts and perspectives. My favorite (yes I read them all) "you're taking yourself too seriously, kid yourself!" I love it!!!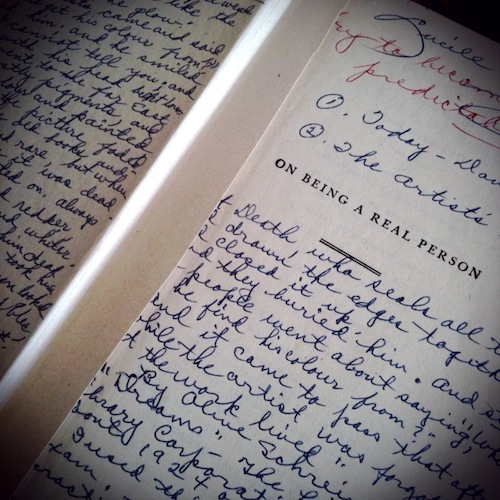 So that is it for our Lake Tahoe vacation, thanks for making it through the whole post.
I will leave you with my favorite picture (taken with my iphone), which sums it all up.
My family. I am one lucky girl & so in love with these people I get to share my life with. So blessed.
Back to reality…
~jeni