On this gloomy, overcast Friday morning, all I want to do is curl up on the couch and blare some Joni Mitchell. I am craving a little sunshine! So, I leave you with this bright and sunny styled shoot that Larrissa from
Inviting Occassion
and I put together. I was so excited for the feature on
Wedding Chicks
last week, and for the amazing photos by my
better half
.
When Sandy approached us to do a shoot at
Surf and Sand
we knew we wanted to do something different than the typical "beachy" look…So this is exactly how Larrissa described our concept:
"we knew we wanted something that that felt worldly and bohemian at the same time.  Morrocan has been done and didnt really seem to fit with the ocean front location, so we went on the hunt for a new country to inspire us. We imagined this couple who had ecclectic style, had traveled the world following the surf, and would want to incorporate different aspects of each of the surfing cultures they had visited. Bali is an amazing surf location and influences from indonesian design are relevant in the design world, especially ikat- indonesian method of dyeing fabrics that results in a very cool ethnic pattern. Jeni picked the color pallette which was genius- navy, teal and burnt orange. I scanned the travel sites for inspiring photos of Indonesian culture and to put our twist on.  I thought it might be cool to incorporate leis from the Hawaiian tradition which "Like a wedding ring, the lei is an unbroken circle that represents a couples eternal commitment and devotion to one another."   The couple throws flowers into the ocean as a way of honoring those who couldnt share in the special day." ~Larrissa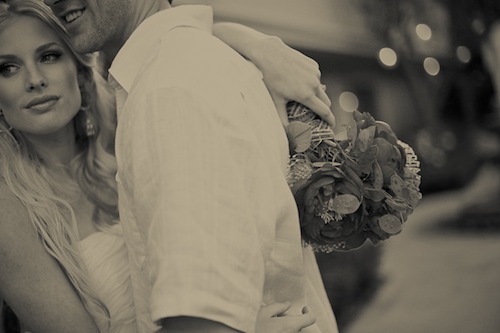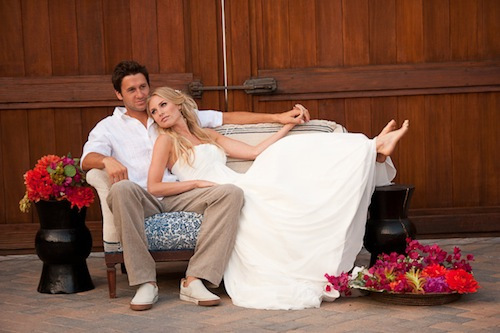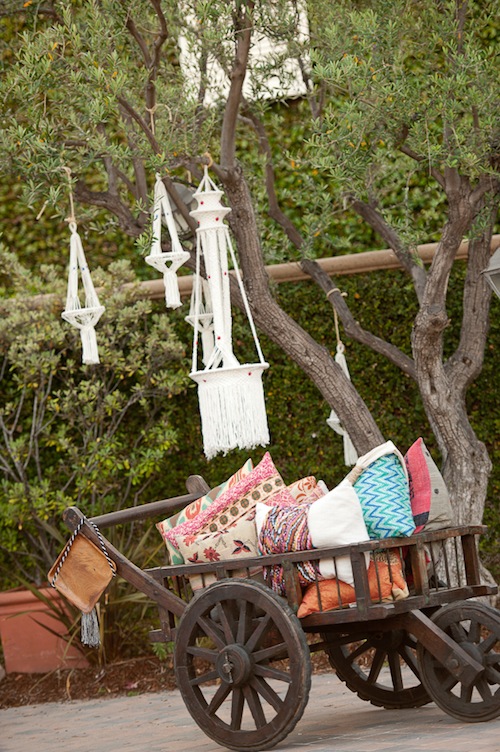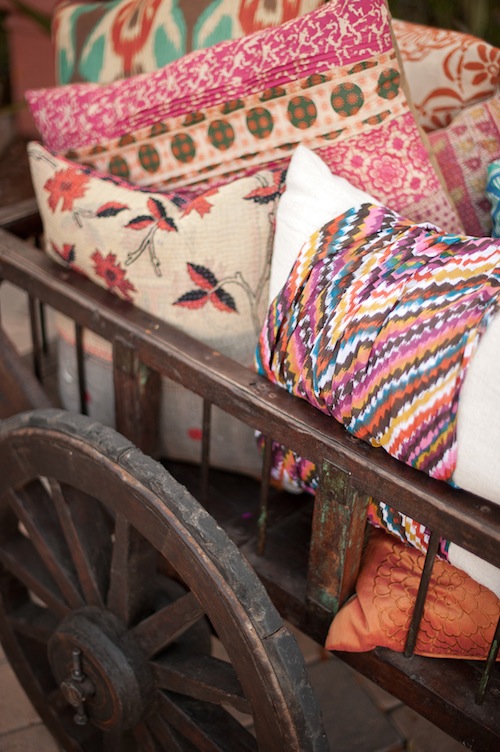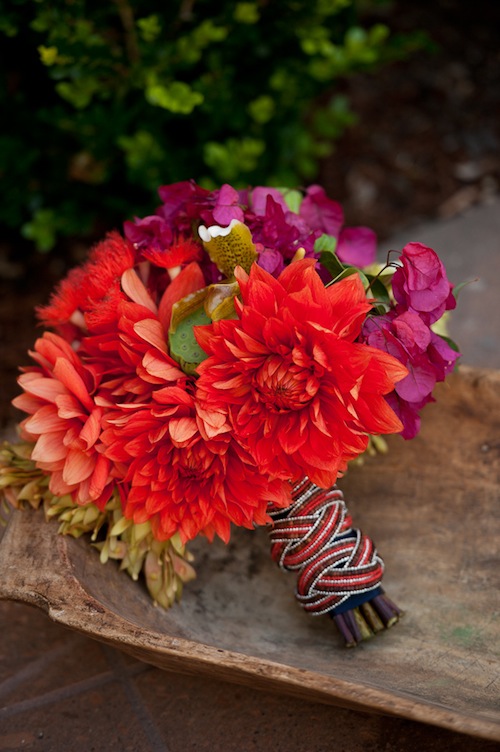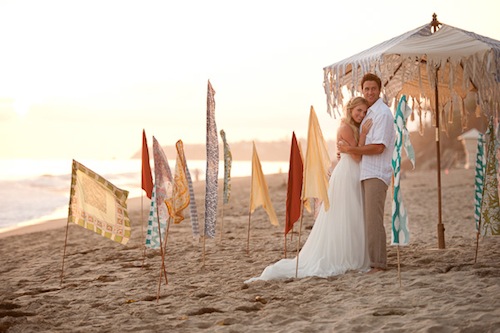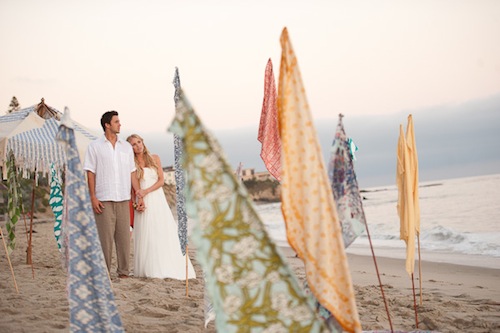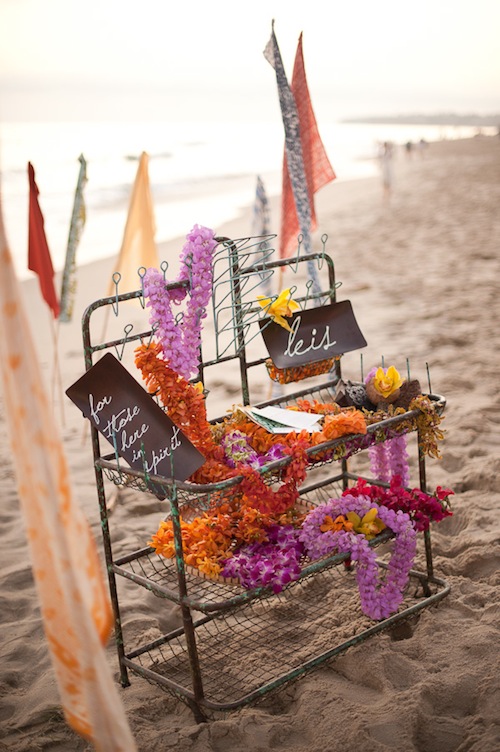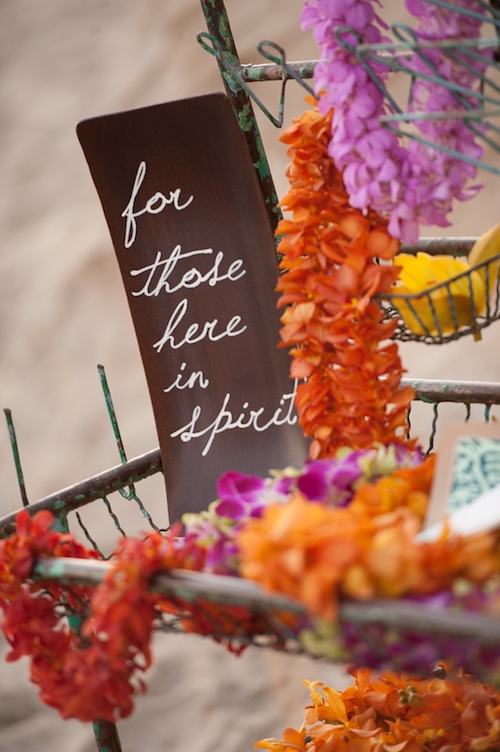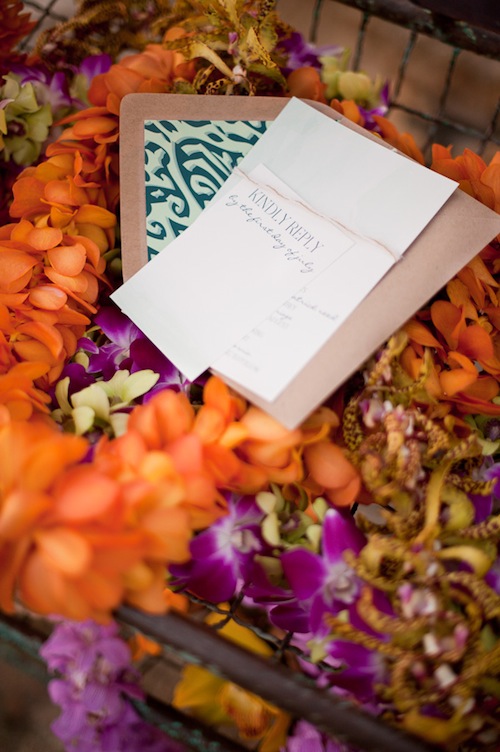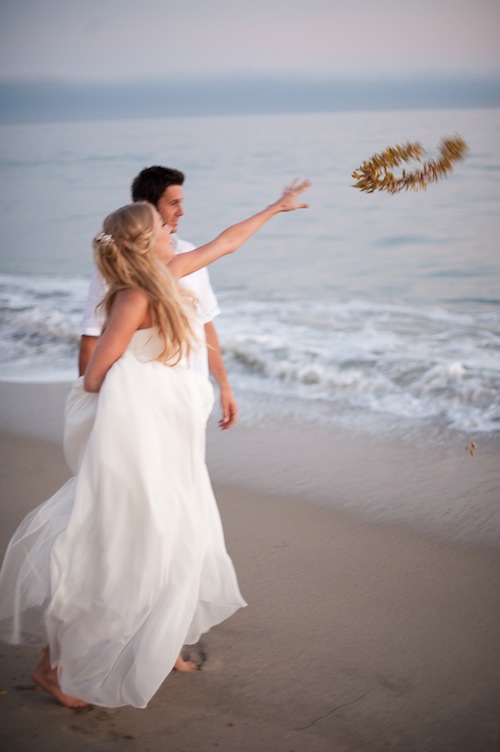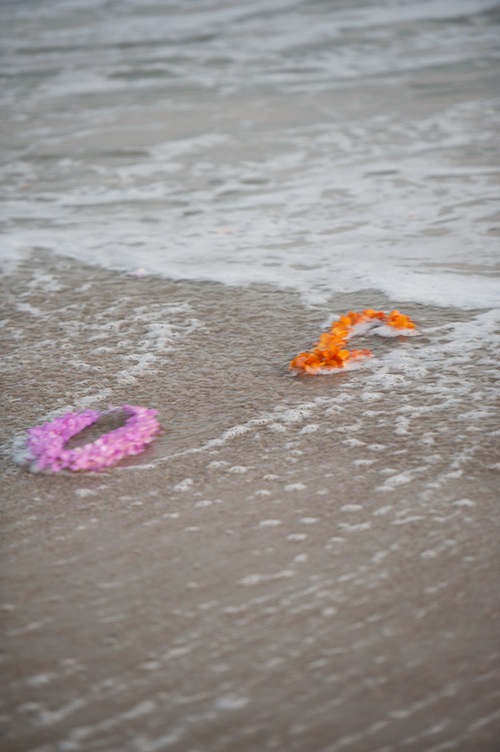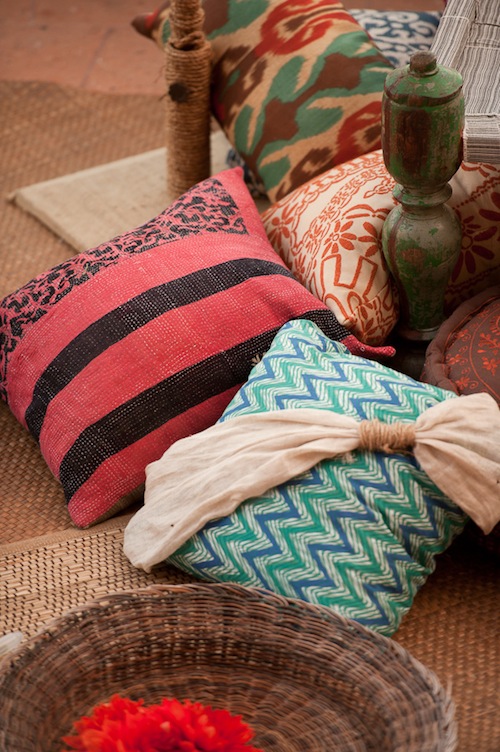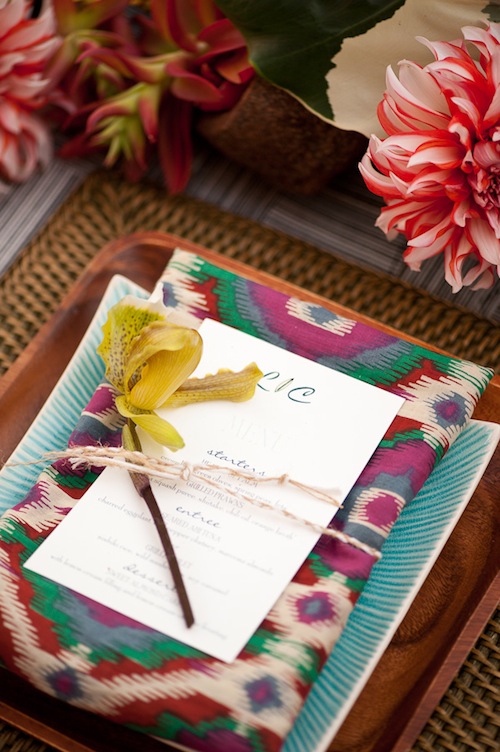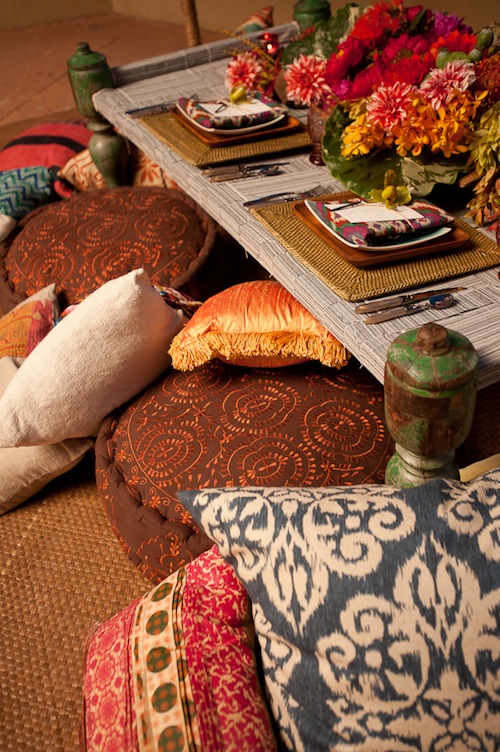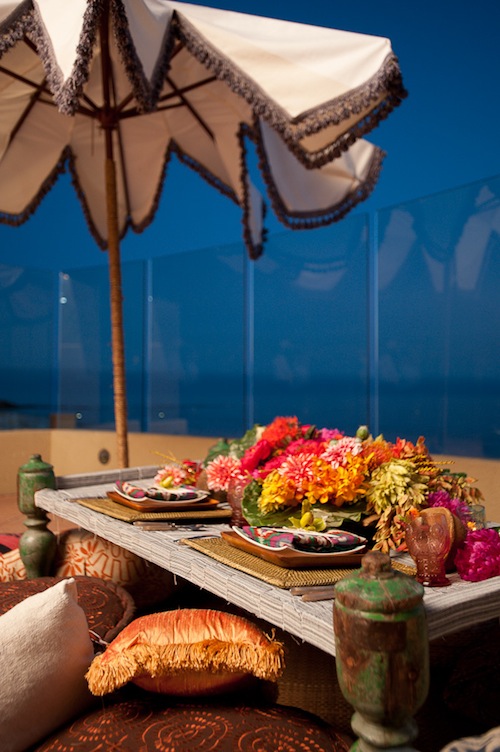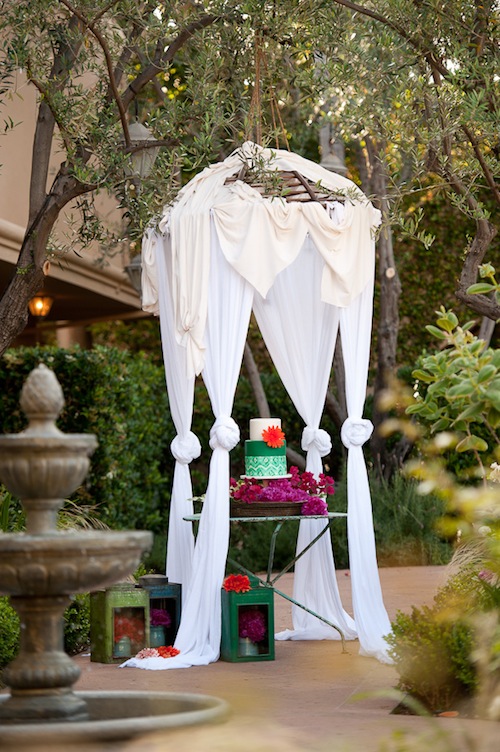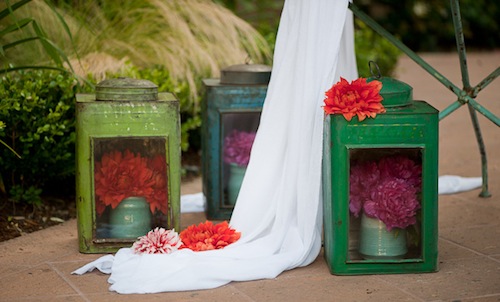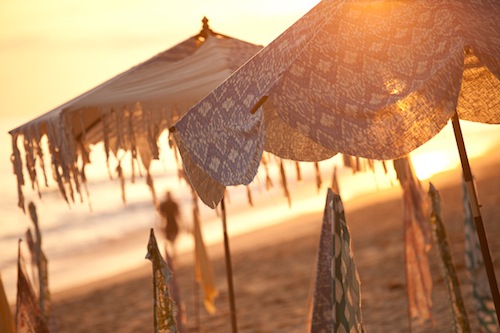 Larrissa is a true designer, and it is always an honor to work with her. She sent over a picture of the flags all over the beach, which I loved and wanted to put my own spin on it with the ikat fabric, and the additional larger umbrellas (yes, I sewed each of those umbrellas, and Anna sewed all of the flags :)) I couldn't be happier with the end result, and the way Joel so perfectly captured it all!
Here's to finding your sunshine this weekend….
~jeni
Collaborators: